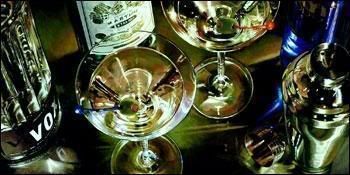 Not that I'm a professional bartender or anything but I take to experimenting with drinks like I do my cooking - with a passion and the intended outcome of getting fed, well in this case drunk and having FUN!
Here's a couple drinks recipes to kick start your weekend
Liquid Cocaine #6
:
30 ml Smirnoff® vodka
3/4 glass Riccadonna Asti® Champagne
fill with Red Bull® energy drink
Mix together in a champagne flute and drink.
Kamakazie
1 part vodka
1 part triple sec (Cointreau®,McGuinness®)
1 part Rose's® lime juice
Shake well with ice and strain mixture into a shot glass.
White Russian
2 oz vodka
1 oz coffee liqueur
light cream
Pour vodka and coffee liqueur over ice cubes in an old-fashioned glass. Fill with light cream and serve.
Have a good one folks! Salute.