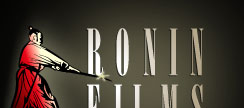 Ronin films is a Canberra based film distribution company. My partner after one of his long sessions trawling the net for all things PNG asked me to do a post on them after he found that they'd had a sprisingly long list of PNG films in their distiribution list.
Ronin films have been around for over thirty years and they primarily distribute independent films into the "non-theatrical" section of the film industry.The films they distibute on are hand picked by their founder Andrew Pike-"The criteria for selection are intrinsic quality and educational interest".
At present they have a list of about 17 PNG films the oldest dating back to 1976 (GOGODALA: A Cultural Revival) and the most recent films being Papa Bilong Chimbu (2007). For a full list of the PNG films on their distribution list, visit this
link
.