Samsung delays Galaxy Tab 10.1 launch in Australia amid patent battle with Apple
Just a few days after suffering a legal setback in Dutch court, Samsung has now decided to delay the launch of its Galaxy Tab 10.1 in Australia, amid its heightening patent infringement battle with Apple. In a hearing today, the Korean manufacturer announced that it would refrain from selling or marketing its new tablet within Australia, before September 30th (read on
here
)
CNET'S Father's Day Buyers Guide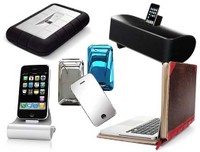 By Pam Carroll on August 29, 2011
Let someone else buy the socks and jocks for dad this Father's Day. If you really want to win "favourite child" status, go for a tech present — there's plenty of great gear to choose from this year.
We've rounded up the hottest phones, digital radios, cameras, laptops and GPS devices that will have the most appeal to dad. There's something for everyone in each round-up, whether your father is a geek personified, or can't find the On switch.(read on
here
)
Nokia"s App Wizard
Nokia's been playing catch up lately (the release of Symbian Belle, releasing the N9, etc) in the mobile technology game but you have to admit that the changes are welcome for Nokia loyalists. One of their newer services which I am surprised that hasn't gotten a mention in their Nokia Conversations blog is their App Wizard. Whilst it is pretty basic, it works for us non-developers. Much like your PC wizards, the wizard is simple enough to follow and lets you have your own personal app-how bout an app which displays feed updates from all your frequented blogs? Check out the
site
and see what you can and can't do (I only got as far as adding the web feeds and uploading an icon for my app).